THE FORMOSA COFFEE
Premium Taiwan Coffee
Sale price Price $20.00 Regular price Unit price / per
*Memorial Day SALE!

May 20-31, 2022.
Buy 1 coffee and get a 2nd coffee at 20% OFF.
Must add 2nd coffee in cart. 
Applies to coffee and one-time purchase option only.
No code required.
Discounted price displayed at checkout. 

Welcome to the world of The Formosa Coffee.
We are on a mission to become the most beloved coffee brand of Taiwanese Americans.
Taiwan, historically known as Formosa, has the perfect climate and geography for growing the best coffee bean in Asia.
We source from micro farms that grow the beans in the high mountains of central Taiwan, known for nutrient rich volcanic soil and pristine spring water, ideal for producing the highest quality coffee bean.
Our farms carefully hand-harvest only the beans that are at the peak of ripeness.
Once harvested, the beans are sun-dried with the outer fruit layer intact for up to two weeks. This allows the beans to absorb the flavor of the fruit which gives our coffee a robust flavor profile that is perfectly balanced: a hint of acidity and just the right amount of fruity sweetness. The result is a velvety smooth mouthfeel with no bitterness.
Every coffee bean is imported directly from our farms in Taiwan and hand-roasted in New York within 24 hours of packaging and shipping.
Usually ships in 2-3 business days.
Premium Roast 100% Arabica Bean
Hand-Roasted in New York, USA
Raw Beans: Single Origin from Taiwan
Process: Natural
Altitude: 3,500 - 4,000ft
8oz (227g) Bag Dimension: 5.9 x 8.7 x 3.2''
Customer Reviews
I recommend this product
Good coffee
I ordered the dark roast. However I think it would be even better if it was slightly less roasted. The burnt taste is starting to come through.
05/18/2022
THE FORMOSA COFFEE
Thank you Steven, we will look into this issue moving forward!
04/28/2022
Meng S.

United States
I recommend this product
So smooth!!
Excellent! The nutty, rich aroma filled the room as soon as I opened the box. The taste was smooth and elegant. Reasonable price with great quality. Will definitely buy again.
04/29/2022
THE FORMOSA COFFEE
04/15/2022
Gabriel P.

United States
I recommend this product
Amazing and Unique Coffee
Truly unique flavors that were complex and yet very smooth and drinkable. I highly recommend Formosa beans to coffee aficionados looking for something new. Delivery was quick and packaging was well thought-out.
04/15/2022
THE FORMOSA COFFEE
Thank you Gabriel for the awesome review! We are unique in the way we roast and source beans. Paramount attention is paid to the quality of the beans and the roasting method to ensure the coffee is velvety smooth with minimal bitterness. And yes, we put a lot of thought into our coffee bag and packaging, so glad you noticed!!!
03/13/2022
Ronald L.

United States
I recommend this product
Great Coffe and Ethoz cups, slow USPS
I always appreciate the flavor of Formosa coffee beans as it reminds me of my 35 years in Taiwan and it is always a joy to gift some of the coffee beans to others who can enjoy great coffee. I also ordered two ethoz cups and was quite pleased to discover that the company producing these cups is located in Bonner, Montana, a town that is about 60 or so miles west off where I am located in Montana, The only problem I had with this shipment is that USPS decided that for some reason the beans had to go to Anchorage, Alaska before arriving in Lincoln, Montana. This resulted in the beans arriving six days after the expected date. Yet, it is worth the wait as the coffee always takes me back to the deep rich soils of Taiwan.
03/14/2022
THE FORMOSA COFFEE
Thank you Ronald! We are sorry that USPS decided to route your order via Alaska. Glad everything arrived (still fresh) and you were able to enjoy the coffee with the cups!
03/05/2022
Jamelyn G.

United States
I recommend this product
Worth every (coffee) drop
The coffee is decadent and delectable! It oozes a wonderful aroma while brewing and it makes my entire house smells like a coffee shop! In fact, the arabica coffee tastes better than other expensive brands. Highly recommending this Taiwan imported bean and NY brewed.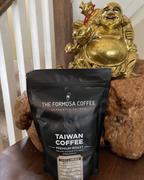 03/05/2022
THE FORMOSA COFFEE
Thank you Jamelyn! We are proud to represent Taiwan in the US coffee industry. We continue to explore new varieties of Taiwan grown coffee beans and more exciting offerings to debut soon. Stay tuned!